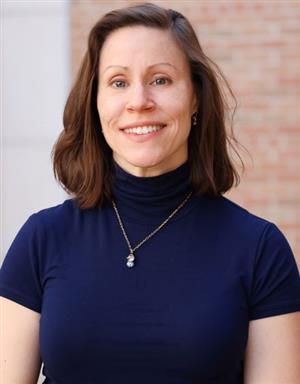 Professor
Biomedical and Translational Sciences
For More Information
Education
Ph.D., Pennsylvania State University, 2005
M.A.S., Pennsylvania State University, 2005
M.S., Pennsylvania State University, 2002
M.A., Columbia University, 1999
B.A., Vassar College, 1998
Academic Positions
Director, Family Resiliency Center, UIUC
The Pampered Chef Endowed Chair in Family Resiliency, UIUC
Professor, Human Development and Family Studies, UIUC
Health Innovation Professor, Carle Illinois College of Medicine, 2022-present
Faculty Affiliate, Beckman Institute for Advanced Science and Technology, UIUC
Faculty Affiliate, Personalized Nutrition Initiative, UIUC
Faculty, School of Education, Research Methods, U. of Cincinnati (UC), 2015-2020
Director, Evaluation Services Center & Institute for Interdisciplinary Data Sciences, UC, 2015-2020
Faculty, Population, Family, and Reproductive Health, Johns Hopkins School of Public Health, 2005-2014
Documents
Other Professional Activities
Board Member, National Prevention Science Coalition, 2015-present
Research Interests
Risk-Taking Decision-Making and Behaviors
Emotional Regulation and Executive Cognitive Functioning
Mindful Yoga and Mindfulness-Based Programs
Stress Reactivity and Coping
Research and Evaluation Methods - Survey, Quantitative, Qualitative, Mixed Methods, Community-Based Participatory Research
Biosocial Methods and Determinants
Prevention and Translational Science
Public Health
Chapters in Books
Dariotis, J.K., & Fishbein, D. (in press). Mindful Yoga (MY) for Grade School Students. In Tyler Renshaw (Ed.), Using Mindfulness to Promote Mental Health in Schools, Oxford University Press.
Pierre, T.S., & Dariotis, J.K. (2005). Understanding Low Fertility: The Impact of Life-Course Competition on Fertility Behavior in Developed Nations (Chapter 17; pp. 235-250). In Alan Booth & Ann C. Crouter, The New Population Problem: Why Families in Developed Countries are Shrinking and What It Means. Mahwah, NJ: Lawrence Erlbaum Associates.
McHale, S.M., Dariotis, J.K., & Kauh, T.J. (2003). Social development and social relationships in middle childhood. In R. M. Lerner, M. A. Easterbrooks, J. Mistry, & I. B. Weiner (Eds.), Handbook of Psychology: Volume 6 Developmental Psychology (pp. 241-266). New Jersey: John Wiley & Sons.
Selected Articles in Journals
Dariotis, J.K., Mabisi, K., Jackson-Gordon, R., Rose, E., Fishbein, D.H., & Mendelson, T. (2023). Perceived Benefits of Mindfulness and Health Education Programs among Minoritized Adolescents: A Qualitative Analysis. Mindfulness. 1-16.
Dariotis, J.K., Chen, F.R., [Co-First Authors], Park, Y.R., Nowak, M.K., French, K., & Codamon, A.M. (2023). Parentification Vulnerability, Reactivity, Resilience, and Thriving: A Mixed Methods Systematic Literature Review. International Journal of Environmental Research and Public Health, 20, 6197.
Ruhland, E. Johnson, L., Pelly, C., Bess, S., Moore, J., & Dariotis, J.K. (2023). Positionality, Intersectionality, Power Dynamics in Community Participatory Research to Define Public Safety in Black Communities. Journal of Community Psychology.
Berdychevsky, L., Cavanaugh, D., & Dariotis, J.K. (2023). Psychological, Socio-Demographic, and Logistical Determinants of Changes in Sex Life during the COVID-19 Pandemic. Journal of Sex & Marital Therapy. 35(2), 263-283.
Dariotis, J. K., Mabisi, K., Jackson-Gordon, R., Yang, N., Rose, E. J., Mendelson, T., & Fishbein, D. H. (2023). Implementing Adolescent Wellbeing and Health Programs in Schools: Insights from a Mixed Methods and Multiple Informant Study. Prevention Science, 24(4), 663-675.
Johnson, L., Pelly, C., Ruhland, E., Bess, S., Dariotis, J. K., & Moore, J. (2022) [collectively first co-authors]. Reclaiming Safety: Participatory Research, Community Perspectives, and Possibilities for Transformation, Stanford Journal of Civil Rights and Civil Liberties, 18(2), 191-223.
Jackson-Gordon, R., Dariotis, J.K., Fisher, B.S., & Dickman-Burnett, V.L. (2022). Implementing sexual violence primary prevention programs: A case study of implementer perspectives. Journal of Youth Development, 17(4). 126-144.
Dariotis, J. K., Sloane, S. M., & Smith, R. L. (2021). I took it off most of the time 'cause I felt comfortable: Unmasking, trusted others, and lessons learned from a coronavirus disease 2019 reinfection: a case report. Journal of Medical Case Reports, 15(1), 1-7.
Dariotis, J. K., & Chen, F. R. (2020). Stress Coping Strategies as Mediators: Toward a Better Understanding of Sexual, Substance, and Delinquent Behavior-Related Risk-Taking among Transition-Aged Youth. Deviant Behavior, 1-18.
Moore, J., Plano Clark, V. L., Foote, L. A., & Dariotis, J. K. (2020). Attorney-client communication in public defense: A qualitative examination. Criminal Justice Policy Review, 31(6), 908-938.
Dariotis, J. K., Mabachi, N. M., & Kessler, S. F. (2019). HIV Status Disclosure Paradox: Implications of HIV Disclosure on Safer Sexual Practices among Women Living with HIV/AIDS. J Women's Health Care, 8(454), 2167-0420.
Fishbein, D. H., & Dariotis, J. K. (2019). Personalizing and optimizing preventive intervention models via a translational neuroscience framework. Prevention Science, 20(1), 10-20.
Dariotis, J. K., & Clark, V. L. P. (2017). The Use of Evaluation to Establish an Evidence Base, Lessons Learned, and Realistic Picture of Program and Policy Implementation and Sustainability: Ohio as an Exemplar for Education Transformation. International Journal of Educational Reform, 26(3), 204-208.
Dariotis, J. K., Cluxton-Keller, F., Mirabal-Beltran, R., Gould, L. F., Greenberg, M. T., & Mendelson, T. (2016). "The program affects me 'cause it gives away stress": Urban students' qualitative perspectives on stress and a school-based mindful yoga intervention. Explore, 12(6), 443-450.
Dariotis, J. K., Chen, F. R., & Granger, D. A. (2016). Latent trait testosterone among 18-24 year olds: Methodological considerations and risk associations. Psychoneuroendocrinology, 67, 1-9.
Honors
Pampered Chef Ltd. Endowed Chair in Family Resiliency. (2020-present)
Research Honors
Center for Clinical and Translational Science and Training (CCTST) Academic-Community Research Partnership Award (2018)
Public Service Honors
Core Value Awardee, Office of Research, University of Cincinnati (2018)
Other Honors
Academic Leadership Program (ALP) Fellow (nominated), Big Ten Academic Alliance (BTAA). (2022-2023)
Health Innovation Professor, Carle Illinois College of Medicine, (2022-2027)
Recent Courses Taught
HDFS 581 - Participatory Research Methods
HDFS 595 - Survey Research Methodology