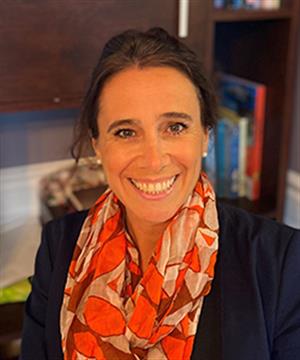 Associate Professor
Biomedical and Translational Sciences
Course Director, Digestion, Nutrition, & Metabolism
Carle Illinois College of Medicine
(217) 300-2374
437 Bevier Hall
For More Information
Education
2008-2010, NIDA T32 Postdoctoral Fellow in Nutrition/Addiction, Washington University in St. Louis, School of Medicine St. Louis, MO
2001-2004, Postdoctoral Research Fellow in Chemical Senses, Monell Chemical Senses Center, Philadelphia, PA
2001, PhD, Chemistry Sciences, National University of Córdoba, Argentina
1995, Licentiate in Pharmaceutical Chemistry, National University of Córdoba, Argentina
Research Interests
My overall research goal is to establish a program that integrates analyses of taste perception with nutrient metabolism and the impact of dietary choices on health and disease in people. Research in my laboratory focuses on the analysis of individual differences in human taste perception and preferences, with an emphasis on sensory control of food and alcohol consumption. By using a combination of psychometrically sound validated sensory assessment methods, and metabolic research methods, we are currently studying or getting ready to study: 1) The effects of bariatric surgery-induced weight loss on taste perception, eating behavior, and alcohol drinking behavior, and metabolism 2) The effects of noncaloric sweeteners on taste preference and glucose homeostasis 3) Fat taste perception 4) The effects of head and neck cancer treatment on taste perception and eating behavior
Other Publications
Tomassini Barbarossa I, Ozdener MH, Melis M, Love-Gregory L, Mitreva M, Abumrad NA, Pepino MY. Variant in a common odorant-binding protein gene is associated with bitter sensitivity in people. Behavioral Brain Research, 2017 30(329):200-4. PMCID in process.
Pepino MY, Eisenstein SA, Bischoff AN, Klein S, Moerlein SM, Perlmutter JS, Black KJ, Hershey T. Sweet dopamine: Sucrose preferences relate differentially to striatal D2 receptor binding and age in obesity. Diabetes, 2016 65(9):2618-23. PMCID in process.
Pepino MY, Adewole LO, Eagon C, Bartholow B, Bucholz K , Klein S. Roux-en-Y gastric bypass surgery converts two alcoholic drinks to four. JAMA Surgery 2015:150:1096-1098. PMCID 4886858.
Pepino MY, Stein RI, Eagon JC, Klein S. Bariatric surgery-induced weight loss causes remission of food addiction in extreme obesity. Obesity 2014: 22:1792-1798. PMCID:4115048.
Pepino MY, Bradley DB, Eagon C, Sullivan S, Abumrad NA, Klein S. Changes in taste perception and eating behavior after bariatric surgery-induced weight loss in women. Obesity 2014: 22:E13-E20. PMCID:4000290.
Pepino MY, Tiemann CD, Patterson BW, Wice BM, Klein S. Sucralose affects glycemic and hormonal responses to an oral glucose load. Diabetes Care 2013: 36:2530-2535.
Pepino MY, Love-Gregory L, Klein S, Abumrad NA. The fatty acid translocase gene, CD36, and lingual lipase influence oral sensitivity to fat in obese subjects. Journal of Lipid Research 2012: 53:561-566.
Research Honors
20th Annual Moskowitz Jacobs Award for Research in Psychophysics of Human Taste and Smell, Association for Chemoreception Sciences (2011)
Recent Courses Taught
FSHN 424 - Biopsych of Ingestive Behavior
FSHN 580 (NUTR 580) - Ethics in Research
FSHN 592 - Graduate Internship Experience
FSHN 595 - Research Ethics
NUTR 500 - Why do we eat what we eat?